WELCOME TO THE LAW OFFICE OF THOMAS R. ASHLEY
Guarding Your Interests

Experienced Excellence
Thomas R. Ashley, Esq.
Michael T. Ashley, Esq.
---
Established in 1978, the firm has earned a reputation of achieving success for clients. For 40 years Thomas R. Ashley has received an A.V. Preeminent Rating rating from Martindale-Hubbell, denoting the highest rating in legal ability and ethical standards. As attorneys for civil plaintiffs the firm has recovered millions of dollars in judgments and settlements. In the criminal arena, we advocate zealously for our clients and investigate cases fully to ensure the full protection of the law.
An Essex County grand jury has opted not to charge the officers involved in the 2020 shooting of Jeffery Sutton, a motorist in Bloomfield, New Jersey. The decision means Bloomfield police are also off the hook for filing charges against the suspect that a Team 12 Investigation showed were false.

"I was surprised and certainly disappointed that the grand jury did not hold the police accountable for what appeared to be gross misrepresentations in their reports," said Sutton's attorney, Michael Ashley.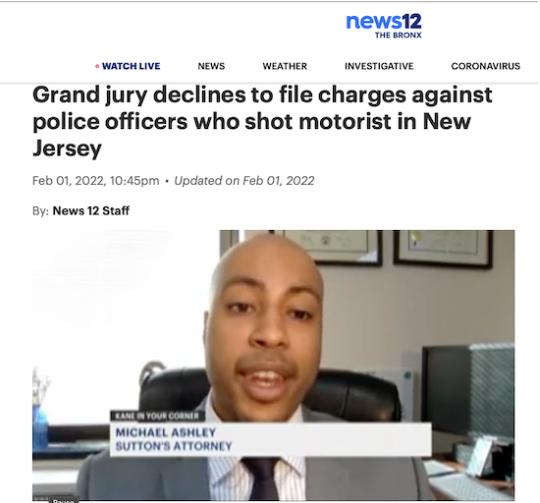 JERSEY CITY, N.J. — Two unarmed men, wounded in a barrage of bullets fired by three Jersey City police officers, have lawyered up, according to a release from the Law Office of Thomas R. Ashley.
The men, 19-year-old Shyquan Rush and 21-year-old Davonte Moore, were shot in their legs multiple times Monday night on Randolph Avenue when police confronted them for setting off fireworks in the street, witnesses said
Montclair man's 18-page journal on killing of girlfriend is focus of court hearing
NEWARK — James Ray III, the Montclair man accused of killing his girlfriend Angela Bledsoe in their North Mountain Avenue home, has an MBA, a law degree and, apparently, aspirations to become a published author.
At a pretrial hearing Wednesday at the Essex County Courthouse, Ray's detailed 18-page journal about Bledsoe's killing and his dramatic flight from Montclair to Mexico and Cuba was quoted liberally by both Assistant Prosecutor Michelle Miller and defense attorneys Thomas Ashley and Brooke Barnett.